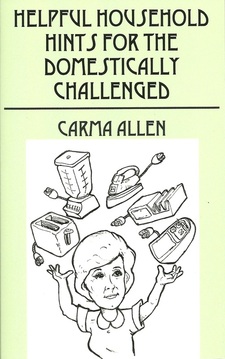 Back cover blurb:

SHE IS NOT A DOMESTIC GODDESS!

And she has never been mistaken for a Happy Homemaker.
But through her years as a single mother and beyond,
Carma has learned many things about domestic issues,
and she's willing to share with you the lessons she
learned the hard way so you don't have to make the same
mistakes. These are mostly hints you won't find in Heloise's
column or on Martha Stewart's show, but they are definitely
household blunders you want to avoid.
---
The following review is from Around Here magazine. Additional reviews are available on Amazon, Barnes & Noble, Powells, and other book vendor sites.