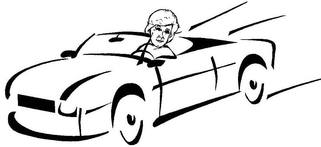 What's It All About?
So what do I have to say? Lots. Is it important? Not really.

I don't have a political, religious, social, or other agenda. I won't be offering etiquette tips or advice for the lovelorn. I heard about a blog that posted a slow-cooker recipe each day for a whole year; I won't be doing that. (Anybody who knows me or who has read my book--Helpful Household Hints for the Domestically Challenged©—will not be surprised that I won't be offering recipes or other domestic advice.) I have no sage advice or words of wisdom about much of anything.

So what do I write about? Pretty much musings about whatever interests me at any given moment. I might also share a little about some of the favorite trips I've taken. There could possibly be the occasional rant about some of life's little annoyances. So if you'd care to join me, I hope you enjoy the trip.

I don't write something every day--that's too much like work. But usually once a week or so (probably on Sunday) I add something.
Lost in America

Keeping the Friendly Skies Friendly
​Dutch Harbor
You Can't Get Here From There (and Vise Versa)
Geographicaly Challenged
Stop and Smell the Flowers
Lost at Sea
Pick a Car, Any Car
Tell Me About It
How I Spent My Summer Vacation
Up, Up, and Away
Topographical Disorientation
Running Away from Home
Who Needs a GPS?
My GPS
No Left Turn
Eugene Turns Rogue
Adventures With Luggage
Caribbean Cruise




Other Issues

Another Little Misadventure
Shopping in the Electronic Age
Modern Medicine Revisited
A More Perfect Union - Conclusion
A More Perfect Union - Part 2
A More Perfect Union - Part I
Hostile House?
Sailing in Splendor
How About "Certified Humane" for Airline
​ Passengers
To B (or Perhaps Double D)
​About All Those Flamingos
Do Not Self-Transformation
Rock On
New Year
Art is in the Eye of the Checkholder
PETA Would Be Outraged!
My Sister Carolyn
Keep in Touch
Grand Kids
Women With Attitude
Save the Manatees (?)
Aquababes Rock!
A Blessed Event
Seasons Greetings
I Do $, I Do $
What Would the Colonel Think?
Family Room
Fireworks!
Signed, Sealed, and Delivered
Fun and Games
Through Thick and Thin
Sew Fun
Modern Medicine
All the News (or Not), Part 2
Ducks
All the News (or Not)
To Grow or Not To Grow
Limping Through History
Time Out
My Painful Path to Physical Fitness
What's In A Name?
It's Not What You Do, It's Where You Do It
It's All Visual This Week
Sunshine On My Shoulder Makes Me Happy
My Dad
Thanks Kim, Beyonce, and JLo
Easily Distracted by Shiny Objects
There's a Pill for That
My Mom
Rapping
Are You Qualified for Marriage?
Seeing and Being Seen
Imagine
Goodbye My Friend
Everyone Should Have a Pet
My Teenage Patriotism
I'm Sometimes Critical



Book

Helpful Household Hints for the
Domestically Challenged